Solar Battery Technology
Solar battery pack generates electricity based on the photoelectric properties of specific materials. Blackbodies (like the sun) emit electromagnetic waves of different wavelengths (corresponding to different frequencies), such as infrared, ultraviolet, visible light, and so on. When these rays hit a different conductor or semiconductor, the photons interact with free electrons in the conductor or semiconductor to produce an electric current.
The shorter the wavelength and higher the frequency of the rays, the higher the energy. For example, the energy of ultraviolet rays is much higher than that of infrared rays. However, not all wavelengths of ray energy can be converted into electrical energy. It is worth noting that the photoelectric effect is independent of the intensity of the ray, only when the frequency reaches or exceeds the photoelectric effect threshold, the current can be generated.
Solar cell power generation is a renewable and environmentally friendly way of power generation, which does not produce greenhouse gases such as carbon dioxide and will not pollute the environment.
Solar Battery Installation
1. Take a simple stranded copper core wire.
2. Use the black wire to match the charge controller "minus" with the battery "minus".
3. Use the red wire to match the charge controller "plus" with the battery "plus"
4. Screw the wires tightly into the charge controller.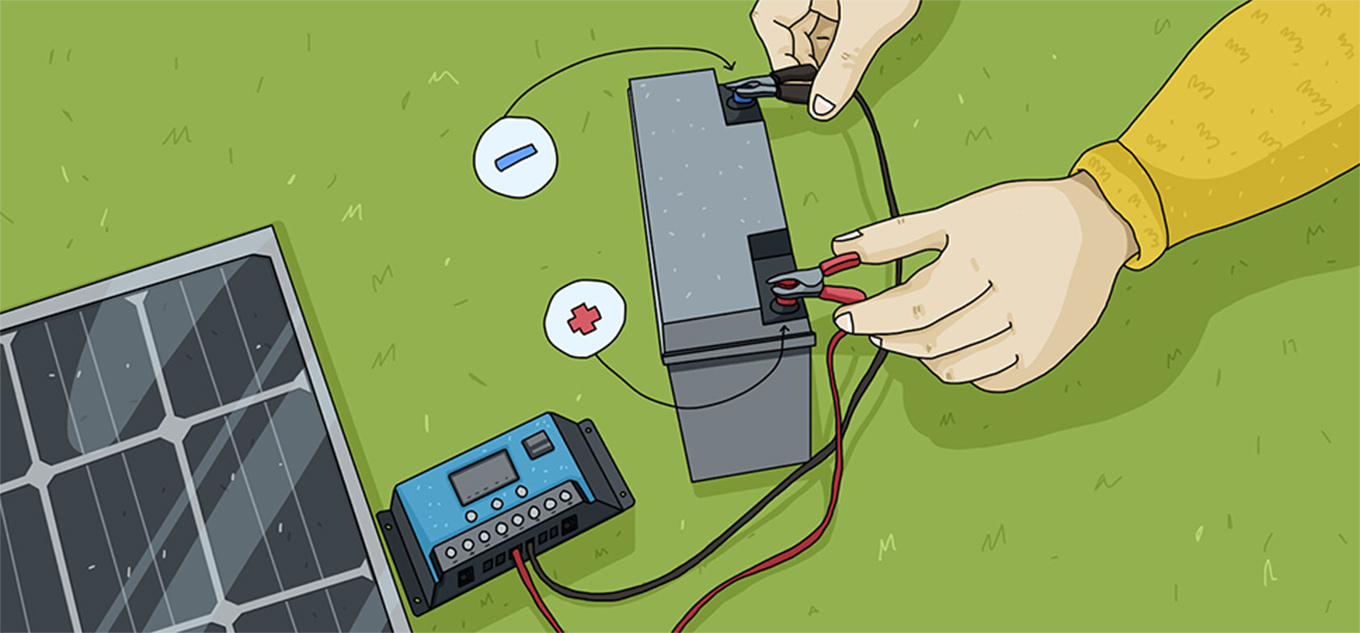 Solar Battery Connection Diagram
After you've connected the charge controller with the solar battery system, it is now safe to connect it to panels.
1. Connect MC4 connectors with a complimentary pair of connectors with wires on other ends. If you have two wires coming out straight of the junction box, skip this step.
2. Plug these wires into the regulator: positive into "plus", negative into "minus".
3. Once you've connected the panels to the controller, it should be able to recognize them. Check the status of your array on the charge controller screen.
4. PV modules start to generate electricity as soon as they face the sun.