How To Install LED Tube Light?

To avoid electric shock, maintenance and installation of the LED tube lamp should only be carried out by a professional electrician

Please use the LED light tube under the correct input power range

Do not use in the outdoor environment

Before installation, turn off the power to make sure safety

Please follow the diagram below to install correctly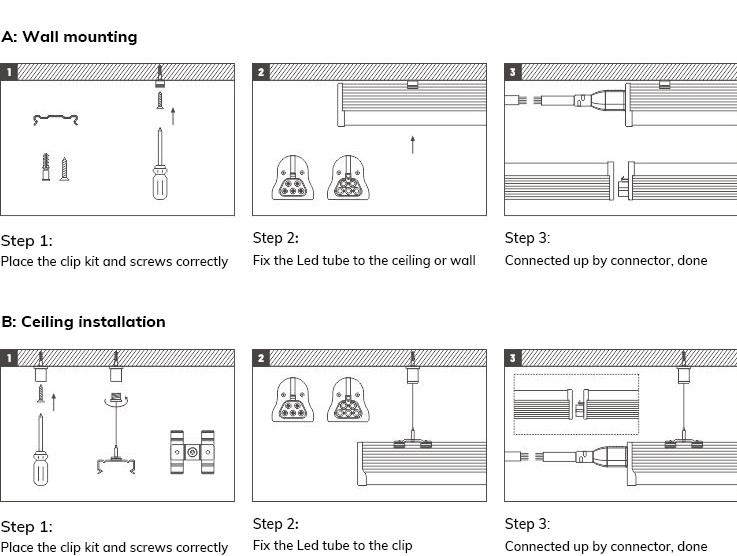 How To Change Led Tube Light?
Way1: Turn off the power, remove the fluorescent tube, remove the fluorescent starter, and replace the LED starter. Place LED light tube into position.
Way2: Turn off the power, remove the fluorescent tube and fluorescent starter. Bypass magnetic ballast(Qualified Electrician ONLY). Replace with LED light tube.
Turn off the power, remove the fluorescent tube. Qualified Electrician needs to bypass or remove the electronic ballast, reconnect for single-ended power input, and then replace with LED light tube.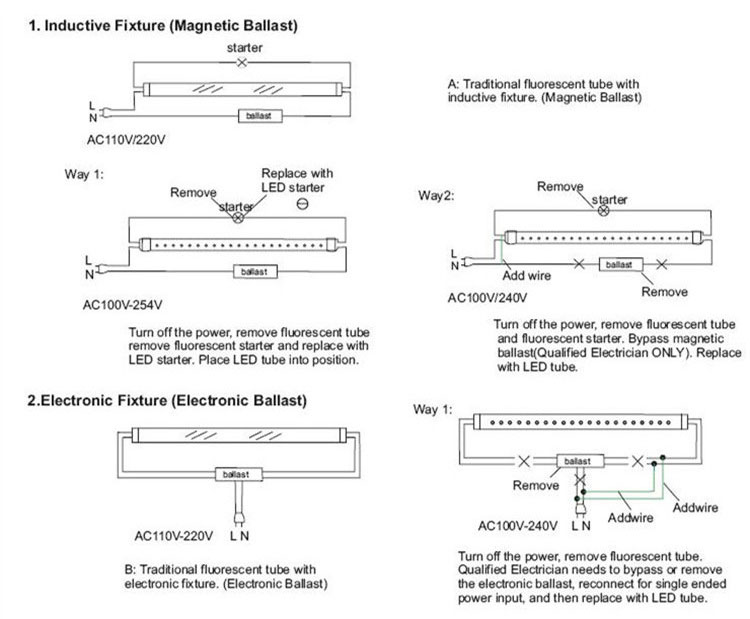 Difference Between T5 And T8 Led Tube Light
In terms of the product size, T5 LED tube lamp is normally smaller than the T8 LED tube fixtures.
Regarding the brightness of the LED tube fixtures, the T8 LED Tube Light is normally brighter than the T5 LED tube lamp, as T5 has a smaller volume in general. Thus, if you are looking for a brighter lamp source, the T8 LED tube light is a good choice, and if you need a darker light source, choose the T5 lamp.
T5 LED Tube lamps will have better performance than the T8 ones in energy-saving. Since the T5 LED Tube Light is smaller in volume, T5 LED tube fittings normally need less electricity. Normally, the T5 tube lamp saves 50 to 40 percent more energy than the T8.
While the T8 LED tube lamps are more widely used in public areas like factories, hospitals, institutions, and so on, the T5 LED tube fittings are commonly found for household uses.