Dual output function description:
The main and secondary outputs are used in normal conditions. But in the following two conditions, the main output is disconnected and only the secondary output is retained:
- when there is no solar power input and mains power input;
- when the battery voltage is lower than 44V (the minimum can be set to 41V, and the maximum can be set to 46V);
Key Features of Anern 8.2KW 10.2KW High-frequency ON/OFF Grid Hybrid Solar Inverter
◆ Pure Sine Wave Inverter(on/off Gird), can be converted to a variety of different power loads.
◆ Self-consumption and feed-in to the grid
◆ One-click restoration to factory Settings
◆ Built-in Lithium battery automatic activation
◆ Built-in 160A(for 7.2KW/8.2KW)/180A(for 10.2KW)MPPT solar charger
◆ High PV input voltage rang(90~500VDC)
◆ Built-in anti-dusk kit for harsh environment
◆ Communicate with WIFI for IOS and Android
◆ Dual PV Input and output are more convenient for solar panel wiring and reduce the use of combiner boxes.
◆ Touch button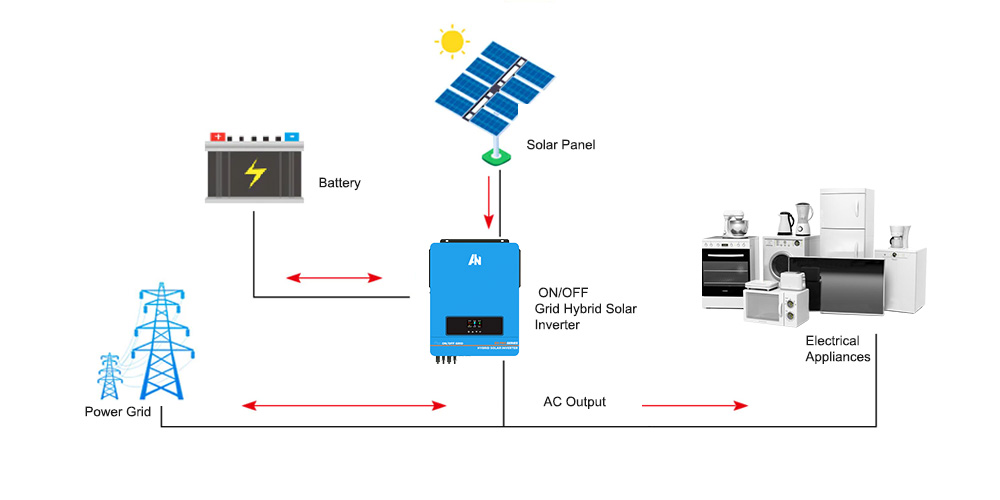 Specification of Anern 8.2KW 10.2KW High-frequency ON/OFF Grid Hybrid Solar Inverter (AN-SCI02-EX-PRO)

Model

EX-Pro-7200

EX-Pro-8200

EX-Pro-10200

Maximum PV Input Power

8200W

8200W

10200W

Rated Output Power

7200W

8200W

10200W

Maximum Solar Charging Current

160A

160A

180A

GRID-TIE OPERATION

PV Input(DC)

Nominal DC Voltage/Maximum DC Voltage

360VDC/500VDC

Start-up Voltage/Initial Feeding Voltage

90VDC/120VDC

Maximum DC Voltage

500VDC

MPPT Voltage Range

90V-450VDC

Number of MPPT Trackers/Maximum Input Current

1/27A

Grid Output(AC)

Nominal Output Voltage

220/230/240VAC

Output Voltage Range

195-253VAC

Nominal Output Current

31.3A

35.6A

44.3A

Efficiency (Peak) Battery to INV.

94%

Power Factor

>0.99

Feed-in Grid Frequency Range

49~51±1Hz

Two Load Output Power

Full Load

7200W

8200W

10200W

Maximum Main Load

7200W

8200W

10200W

Maximum Second Load(battery mode)

2400W

2733W

3400W

Main Load Cut Off Voltage

44VDC

44VDC

44VDC

Main Load Return Voltage

48VDC

48VDC

48VDC

OFF-GRID OPERATION

AC Input

AC Start-up Voltage/Auto Restart Voltage

120-140VAC/180VAC

Acceptable Input Voltage Range

90-280VAC or 170-280VAC

Maximum AC Input Current

40A

40A

50A

Nominal Operating Frequency

50/60Hz

Surge Power

14400W

16400W

20400W

Battery Mode Output

Nominal Output Voltage

48VDC

48VDC

48VDC

Output Waveform

Pure sine wave

Efficiency (DC to AC)

94%

Battery & Charger

Nominal DC Voltage

48VDC

48VDC

48VDC

Maximum Solar Charging Current

160A

160A

180A

Maximum AC Charging Current

140A

140A

160A

PHYSICAL

Dimension, D x W x H (mm)

537*390*130mm

Net Weight (kgs)

14.2

14.2

14.5

Communication interface

WIFI