After more than two years of design and development, our latest exclusive patented solar street light is finally available! We named the all in one solar street light AN-SLZ. You will must be impressed by the most economical price comes with the strongest configuration.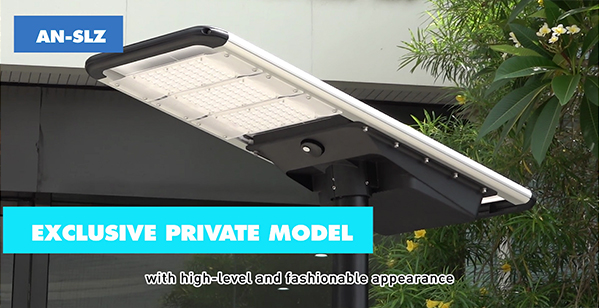 Due to the integrated design of the all-in-one solar street light, the installation of it becomes convenient, which greatly reduces the installation labor cost, and also reduces the cost of international transportation. The integrated solar street light is also more convenient to use, without complicated operations. The above advantages have made Anern all-in-one solar street light recognized and favored by foreign engineering companies and governments, and the market continues to be booming.
Anern company has more than 10 years of experience in the R&D and production of solar lighting products. For so many years, Anern have always put providing customers with high-quality solar lights in priority. We have independently developed a variety of solar lighting products, including AN-SL series, AN-SLA series, AN-SL-X series, AN-SSL-I series, AN-ISSL-C series and this newly launched AN-SLZ series in 2021 and other patented products.